How to Use Google Posts to Get More Patients
One of the first things patients see while searching for you is your Google Business Profile. On this profile itself, they can view Google Posts, which let you share relevant information about your practice.
​A Google Post (GMB post) is a free and effective way to improve your brand awareness and bring in new patients. How can you make them work for your practice, though?
Keep reading to find out.
Table of contents:
What is a Google Post?
A Google Post is a post on your Google Business Profile that lets you share additional information about your medical practice right from your business listing or the search results page.
​You can use a Google Post to announce a product launch, communicate your offer, highlight an upcoming event, and in many other ways.
Why should you use Google Posts?
Even though Google Business Posts don't directly help your practice website's SEO, they do help indirectly.
​More specifically, by providing interesting and relevant information about your medical practice and the services you offer, these posts can entice more patients to click the link to your medical website.
​The more clicks on your Google Business Profile and practice website, the higher your practice is likely to rank on the search results page.
Where do Google Business Posts show up?
Users can see your practice's Google Posts in 3 different locations:

Your Google Business Profile website
The 'From the Owner' section of your business profile, on a desktop
The 'Overview' or 'Updates' tabs of the business profile on Google Maps and Google Search, on a mobile device
How long do Google Posts last?
After you publish Google Business Profile Posts, most of them stop appearing in Google Maps or Search after 7 days. But for posts related to offers or products, you can specify a certain expiration date for the Google Post.
​Additionally, if the post is about an event related to your medical practice, it will show up on your Google Business Profile until the event date has passed.
How to create Google Business listing posts for your medical practice
1. Log in to your practice's Google Business Profile
Start with signing in to your Google Business account on your mobile device or desktop. Next, select the 'Add update' option on the profile dashboard.
2. Decide the type of post you want to create
What kind of a Google Post do you want to set up - something related to an event, offer, or an update?
Before you decide, ask yourself a couple of questions:

Who's your target audience - your current patients, old ones, or new ones altogether?
How will you capture your target audience's attention?

The answers to these questions can help you understand the post's purpose and where it fits into your overall practice marketing strategy. Deciding the type of post you want to set up will get easier then.
3. Craft an appealing title
Once you've made up your mind about the type of post you want to publish on your Google Business account, it's time to start creating one.
​Begin with writing an eye-catching title, in case you're posting about an event or an offer. The title should be clear, short, free of fluff, and easy to read.
4. Write a clear and concise Google Post
You can write your post within 1,500 characters, but Google's knowledge panel shows only the first 100 characters of the post.
Hence, featuring the post's main information in the first 100 characters might make it more likely for your patients to click on the post.
It's also a good idea to stick to just one message per Google Post, instead of swaying from what you want to say and cramming too much information.
​One thing you should remember is that using hashtags in a Google Post won't help your practice's Google Business Profile rank higher on the search results.
5. Publish the post
When you're done writing the Google Post, hit 'Publish'. Click on 'Preview' if you want to check how the post looks before it goes live.
Once published, users can see the post on both Google Maps and Google Search results.
What are some good Google Post ideas for doctors?
Promote your services
You can highlight your medical services and procedures in the 'Services' tab. This will allow your patients to view the details of the procedures and pictures, if required.
​On reading through the service descriptions, they can click a link to your medical practice website or your social media profiles to learn more about the procedure and your practice.
​Sharing a Google Post is also a good way of announcing any new service or procedure you might have added to your service list.
Show off your practice's awards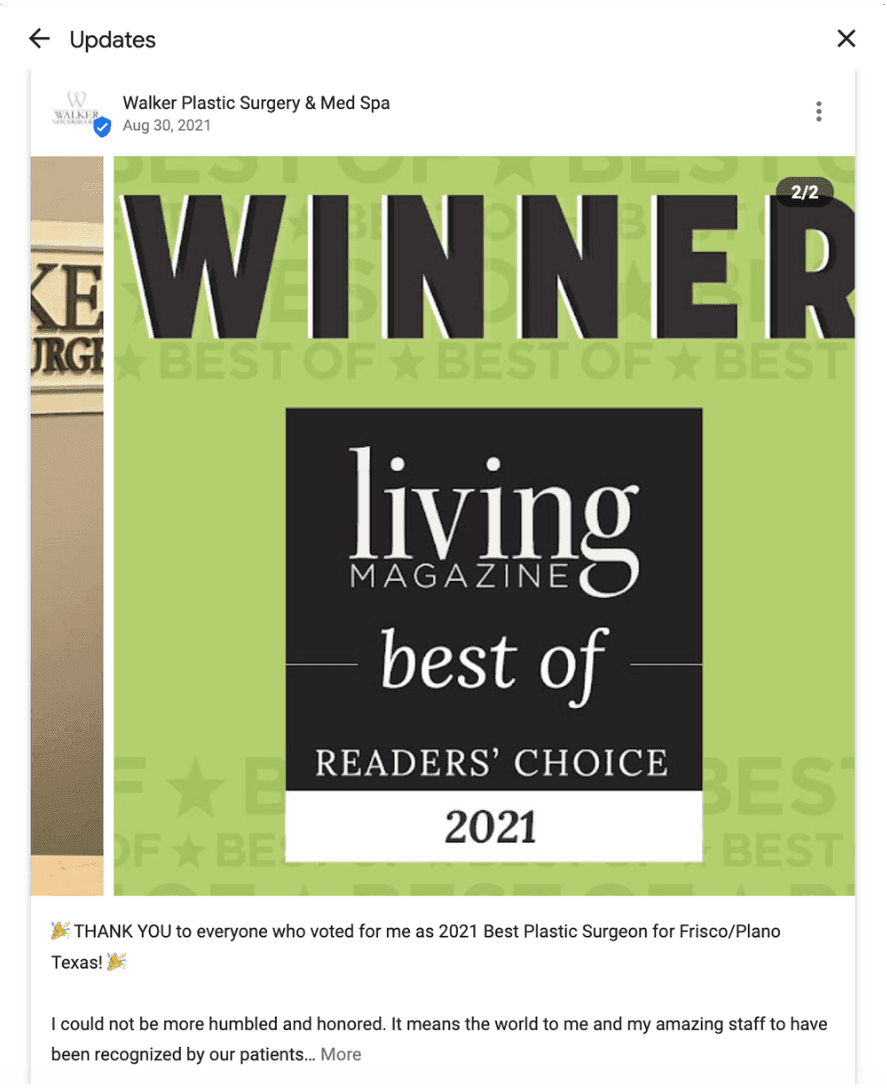 Has your practice won any awards? If so, there's no good reason why you shouldn't display your practice's wins as Google Posts.
​That's because patients are more likely to click on your Google Business Profile on seeing that you're an award-winning medical practice.
Talk about facilities your practice provides
Do you offer private parking for your patients and other visitors? Does your practice have on-site lab facilities so your patients can receive test results faster than usual?
​A Google Post is a good place to emphasize the facilities available at your medical practice. For example, if your pediatric clinic offers pediatric emergency care, it would make a helpful Google Post.
Feature upcoming events
In case you're attending a medical conference or seminar, don't limit its promotion to just your practice's social media profiles. Instead, use Google Business Posts as another avenue for promoting your practice's events.
​For that, use the 'event' post type in your Google Business Profile dashboard to create an event. These events will appear not only on your business profile, but also in Google event listings.
Show photos of your practice
Take and upload professional photos of your medical practice staff at different kinds of events, such as award shows or while performing a medical procedure.
​You can also show your patients around your office so they get a glimpse of the place where they are going to receive your services.
For example, if you own a private dental practice, you can share photos of your office entrance so that patients can recognize it on their first visit.
Post the best patient reviews
Let's say some of your patients have written detailed positive reviews for your practice. Do you want those particular reviews to rust in the dust of the long list of reviews?
No, right?
Well, publish those reviews as Google Posts so your new patients can see them right away, without having to comb the 'Reviews' section in your Google Business Profile.
Announce any special offers
If you have an active offer on, say, a medical service package on your Google Business account, chances are, your patient will choose you over your competition. Once they click on your practice's listing, they can see the offer without leaving Google Maps.
​In case they find your offer attractive enough, they'll find your website and social media links or Google Map directions to visit your practice.
Share the list of insurance payers your practice supports
Ran out of Google Post ideas for your medical practice? How about posting a list of health insurance payers that your practice supports?

That way, anyone looking at your practice's Google Business Profile can clearly view whether or not they're eligible for availing of your services based on the insurance payer they've registered with.
Google Posts best practices
Use high-quality visuals
Supplementing your text posts with refreshing images is a good way to grab your patients' attention. But it doesn't mean you should upload a standard stock photo every time you publish a Google Post.
It's not a platform for publishing infographics, either, so leave those for your social media channels.
Add a CTA button
Every GMB Post can have a link to your medical practice website or any landing page. For the link, the default call-to-action (CTA) button says "Learn more".
However, you can pick one from different options, such as "Book", "Sign up", "Order now", and many more.
Insert keywords
Adding keywords in your Google local Posts lets Google local justifications pull in those keywords for featuring the justifications in local packs.
More precisely, justifications are text snippets that Google shows in the local pack. They're called 'justifications' because they help users justify why your medical practice's name is showing up for their search query.
Track offers with UTM links
One of the unknown Google Posts best practices is to track your offer with a Urchin Tracking Module (UTM) link.

When you add UTM parameters to your Google Post links, you can track your campaign's performance. It helps you understand which posts are performing and which posts aren't, so you can create more posts in the future similar to the ones performing well.
Publish Google Posts frequently
Posting regularly on your practice's Google Business account reassures your patients that they're looking at up-to-date information about your practice.

Also, Google archives posts that are more than a week old. So, to maintain your practice's brand consistency, keep posting regularly.
Start using Google Posts to maximize patient engagement

Now that you know Google Posts are a free and easy tool for connecting with your patients, it's time to start leveraging them.

However, generic content like infographics or the latest news in the healthcare industry won't get you anywhere in today's competitive digital landscape. You can either post about your services or reviews to convince new patients to visit your practice, or you can use offers to directly sell to them.
What with overseeing your practice's administration and treating your existing patients, you're not always going to have enough time to create and publish Google Business Profile Posts, though.
But our digital marketing team at Practifly does!
They're a team of professionals who can help you set up compelling GMB Posts to capture the attention of new patient leads. To learn how we can take care of your practice's Google Posts, book a demo with us today.
Book Your Customized Demo Now
See how Practifly's product and solutions can help you grow your medical practice and take care of all your digital needs
Book a Demo